Exceptional food and a unique experience with surprising flavors are a result of careful selection of the freshest and best ingredients, a perfect blend of spices, recipes that have been passed through generations, and the ability and experience in orchestrating all these into unique flavors and textures.
The perfect balance of spices, herbs and the best ingredients are a fundamental part of our Lebanese and Mediterranean cuisine.
One good example is our Shawarma, which is marinated for 48 hours, it has 5 ingredients and 12 spices.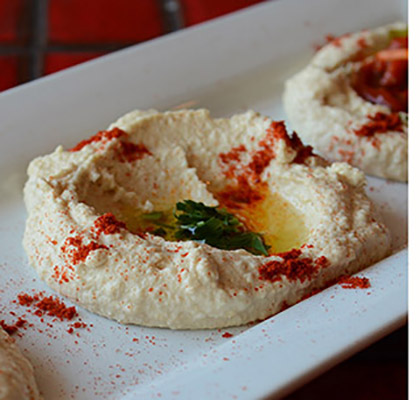 Another example is our traditional Lebanese Hummus, one of the most requested appetizers, and dishes in general. As simple as it may look, its recipe is the truly authentic Lebanese version (hummus recipes vary across the Mediterranean region).
To achieve the desired balance of spices, ingredients and texture requires not only the knowledge and culinary skills, but also to care.
Our hummus is a good example of our overall approach to our food, our service and our restaurant. One of our deepest satisfactions is to see how from this basic and popular appetizer, to our wraps and more sophisticated dishes, our clients get surprised by the mixture of flavors and quality of our food, as well as by our service.
Caring about what we do, our food, ambiance and our clients is not only what we value most about our restaurant - it's why we started it.